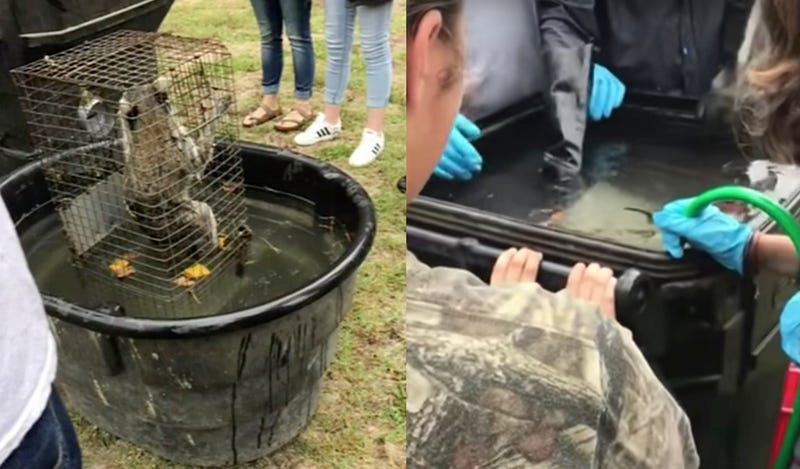 *A teacher of an agriculture class at Forest High School in Ocala, Fla. took it upon himself to drown two raccoons and a opossum, in his classroom, in front of his students.
Actually, he asked the students to help him do it.
Officials say the raccoons had eaten one of the live chickens being raised by the students in class, so I suppose the teacher was punishing the animals in this cruel, inhumane way.
Officials say the teacher, Dewie Brewton, who is currently on paid administrative leave, took two large cages, put the raccoons inside, and then placed them inside a large garbage can. I suppose the opossum was thrown in as well, but there was no mention. He and the students then filled the can with water, using a hose. In the video below, you can see the students standing around; someone wearing gloves appears to be pushing what can be assumed is the wire cage, underwater. One of the raccoons can be seen raising its snout above water in an attempt to breathe.
Gizmodo.com writes…
The teacher, Dewie Brewton, who a parent in the video says "he knew what he was doing was wrong" because he threatened any child who videotaped it, has worked at Marion County?s Forest High School for years and is now on leave pending an investigation. In blurred video from the incident obtained by local TV news outlet WFTV, someone can be seen pushing the raccoons underwater with a long pole.
It?s not illegal to kill so-called ?nuisance animals? in Florida, but some of the students were horrified and there didn?t appear to be any scientific lesson in the killings, aside from just watching animals die. State law requires that nuisance animals be euthanized humanely.
?Marion County Public Schools is appalled at the actions of an agri-science teacher accused of killing nuisance animals in front of students earlier this week,? the school district said in a statement released to WFTV.
Dr. Heidi Maier, the school superintendent wants the teacher fired. Florida Fish and Wildlife Conservation Commission and the Florida Department of Health are both conducting investigations.
A statement from Marion County Public Schools reads…
"Marion County?s education standards?in fact, Florida?s education standards?do not include activities for the destruction of live animals, nuisance or not.?
And THIS is something I found hard to swallow. The High school Alumni group is actually DEFENDING the teacher!
Forest High School?s Future Farmers of America (FFA) Alumni released a statement on Facebook defending Brewton, describing him as a ?man of faith? and blaming the media for reporting on the incident.
You can read their statement supporting his actions; while blaming the press for writing about it, here.
Gizmodo.com reports, based on audio from the video, some of the students were very uncomfortable with the entire situation, appearing to judge that at least one of the animals didn?t deserve to die.
?That one is like super super small,? one of the students can be heard saying on the video. ?That one probably didn?t do anything.?
Personally, I believe there's a very special place in hell for people like Dewie Brewton, wouldn't you agree?
WARNING! GRAPHIC VIDEO BELOW.