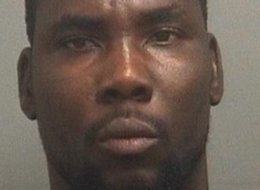 *All eyes were on him – mouths agape in horror – as one man allegedly stabbed two other men, killing one and leaving the other in critical condition as patrons in the restaurant ate dinner.
Police say 42-year-old Tilus Lebrun became enraged after his boss, restaurant owner Dimitrio "Jimmy" Karaloukas, 61, reportedly took his photo without permission, according to The Sun Sentinel.
It happened last Thursday at "Jimmy The Greek Tavern and Restaurant in Boca Raton." Lebrun, an employee at the establishment, allegedly took a large knife from the kitchen  and fatally stabbed Karaloukas, his boss, and injured an unidentified worker, according to WRCB-TV.
Deputies said Lebrun then walked outside, wearing an apron and still holding the large knife, and called authorities to admit the crime.
"I killed him because he took my photograph on March 2nd and posted it on the Internet," Lebrun told the police, according to WPTV. "They need to learn how to respect people. I have three kids in Haiti. I know they will suffer but they will survive."
Karaloukas' family members were left in shock, and  spoke to The Sun Sentinel.
"He loved what he did, he loved the people that he served," said Karaloukas' stepbrother, Joseph Scruto. "If someone came in and they didn't have money, he would take care of them."
No word on why the unidentified man was stabbed; or if it, too, was intentional.
Lebrun was charged with homicide and attempted homicide, and is being held without bail.
This story originally appeared in The Huffington Post.