*Yep, some of us actually have in-boxes that hold ninety-seven-thousand unread messages…some even more. If you're a Gmail account holder, there is something you can actually do if you want to say, delete your entire in-box in one click (I choose that one!), or even track which websites is giving out your information.
Check out what you may not have known about your Gmail features before (I guess that's why they call them secrets). 
Here's some handy tips thanks to our friends at Huffington Post.
1. The dots in your Gmail address don't matter
You can email [email protected], [email protected] or J.o.h.n.D.o.e.@Gmail.com and they would all go to the same place. The periods in your email address are actually totally meaningless.
2. You can hit the snooze button on your Gmail
Using the free Gmail app Boomerang, you can open an email and set it to return to your inbox in a set amount of time.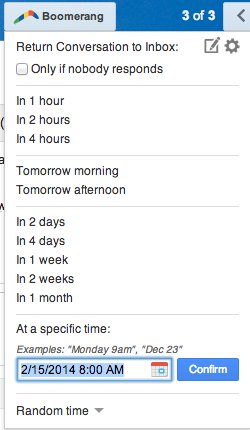 3. Find out if your Gmail address has been spread and by whom
If you add a "+" sign and then any words into your Gmail address, it still works. For example, if you were to subscribe to a shopping site and your email address is [email protected], you could use the email address [email protected] to sign up. You'll still get your emails and you'll be able to filter them more easily by which address emails are sent to. Plus, if you get any emails from another site to [email protected], you'll know who gave your email address out.
4. You can get desktop notifications for emails
If you're an obsessive email checker, Gmail can pop up with little notifications on your desktop when you get an email. You can set it to notify you when you get any email, or just when you get emails that are labeled "important." Just click the gear icon in your inbox, go to Settings, and scroll down to Desktop Notifications.

OK, so that's only 4, to learn about the other three gems, head on over to Huffington Post.