Word on the street is that Magic Johnson is looking to buy Johnson Publications.  For those of you who don't know any better, Johnson Publications puts out Ebony and Jet.  In recent years, the magazine company has been struggling to stay afloat.  This is mainly due to the fact that they refuse to pump any new blood into the magazine.   It's true that Magic's name alone will bring on huge investors but real talk, if they ain't forcing Erma to retire and hiring Quintara…they don't stand a chance.  Nuff said…
One might call Jay Z a hater because of his recent comments about the remake of 1985's "We Are the World."  In a recent interview with MTV,  Jay was asked how he felt about the remake and he said "some things are just untouchable.  I know everybody is going to take this wrong…I love it, and I understand the point and think it's great. But I think 'We Are The World' is like [Michael Jackson's] "Thriller" to me. I don't ever want to see it touched."  He also points out that he made an effort to write a new song for Haiti.  "I tried to do that with 'Stranded'…I didn't try to make 'We Are The World,' but I tried to make our take on how we felt."  Sounds like haterade to me…
Side Bar-If you haven't seen the new video for the remake of We Are the World check it out above.
Okay, I know that I am late on talking about the All Star Game but I just couldn't let this one slide.  What the HELL is wrong with Usher?  Is he on drugs or something?  Not only did he sound terrible but the dude was rocking leather capris and leg warmers with a mandex (man spandex) muscle shirt.  J-Pat if you are out there, please know that your baby needs a fashion intervention.  He should NEVER leave the house dressed like Le'roy, the dancing barbarian.  Check it out below…
New BFF's?  Word on the street is that Brandy and Kelly Rowland threw a joint birthday party together in Miami last weekend.  There were a ton of celebs in the place but the one that stood out was Brandy's "alleged" man, rapper Flo-Rida.  Personally, I ain't mad at Brandy for snatching that brotha up.  I have heard nothing but great things about him.  One of the biggest compliments that I heard someone give him was the fact that he was ALL MAN…and not a little boy.  Go'on Brandy.  I hope it works out for you.
Side Bar-This ain't got nuffin' to do with nuffin' but don't you just LOVE Brandy and KR as BFF's?  They look like they are truly friends…unlike that FARCE of a friendship with the Knowles' family…but imma leave that alone.  Nuff said…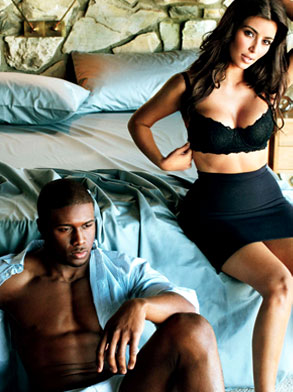 Word on the street is that Kim Kardashian and Reggie Bush are indeed ENGAGED!  According to my sources, Reggie proposed to her prior to the Superbowl and Kim accepted.  However, they cannot go public with the engagement until the new season of Keeping Up with the Kardashian's.  It's all about the ratings people.
Side Bar-Reggie, where is yo' mama?  Ain't no way in HELL yo' mama should be letting you marry a sex tape chick.  On top of that, she was doin' RAY J!!  She may as well have been sleeping with Coolio.  Nuff said…
That's all the dirt for now.  Holla back at your girl…
Peace,
Sony