What's up y'all?
Shouts out to the 2009 Super Bowl Champions, the Pittsburgh Steelers!!  They kicked butt!  Although I am not a football fan, I actually watched the ENTIRE Super Bowl game!
Speaking of the Super Bowl, I found myself glued to the television at 5:59 so that I would not miss a millisecond of J-Hud singing the national anthem and let me tell you … LIL SISTA SANG that SONG!  She put some "stank" on it!  Rocking a white shirt, black pants and a cropped jacket, lil' sista looked relaxed and FABULOUS! According to my sources, right after she sang the anthem folks started blowing up BOTH of her cell phones.  Rumor has it that one of the text messages was from Jamie Foxx telling her that she did an AMAZING job.  Now I cannot wait for the Grammy's!  I am taking wagers on how many statues lil' sista is gonna be bringing back to the crib.  Y'all know I love me some J-Hud!!  And yes, she did sing it better than Whitney!  Nuff said…
Check out her singing the National Anthem by clicking here.
Side Bar-Secret crush alert…I love me some Jamie Foxx.  Not because he is talented, compassionate and good looking but because I stand a chance.  He ain't got no problem with dark skin and a big bootie.  Nuff said…
Speaking of football, WHY did the wife of NFLer Richard Seymour give his girlfriend a beat down?  Yep.  Y'all heard me right.  Tanya Seymour found out that Richard had been dipping his pen in someone else's ink and snapped.  Allegedly Tanya and one of her homegirls from South Click (Carolina) rolled up on the skank and whipped dat azz.  The police were called and both ladies were arrested and charged with 2nd degree lynching.  Now it would be ironic if not REAL comical if the victim of the beating was a white girl.  On the real, I can see why she snapped.  The brotha is on the FYNE side and she is juuuuuuust on the opposite side of that.  Y'all know she don't look quite right.  I won't flat out call the girl ugly (because she is not), but I will say that beauty just ain't her gift.  Maybe it's the receding hairline that is taking away from her looks…but as it stands, beautiful is not the word that comes to mind when looking at her mug shot.  Nuff said…
Side Bar-School is in session.  Ladies if you know a dude is married or tied to another, step off.  Don't let the "I'm the better woman" syndrome get the best of you because guess what, you ain't the better woman.  And if you ain't careful and yo' windmill game ain't tight you may very well find some crazed wife (Tanya Seymour) and her homegirl spanking that azz in some very public place.  The school bell has rung.  Class dismissed.  Nuff said…
Speaking of cheating men, LisaRaye McCoy-Misick done testified against her soon to be ex-hubby.  According to my sources, the Prime Minister has been brought up on charges of misappropriating funds and Lisa done went to court spilling all the beans.  She told about him spending over 100K for her to fly in a private plane during their 10 month courtship, 200K shopping sprees and errrrything.  She also told about the child he produced while they were married.  Ain't nothing like a woman scorned.
Side Bar-Go LisaRaye.  I would have snitched too!
Since I am on sports I may as well tell y'all about the "Olympic Great" Michael Phelps and his hitting the pipe.  The Associated Press is reporting that some pictures of Michael smoking a marijuana pipe surfaced around November of last year.  Apparently Michael was at a house party near the University of South Carolina and decided to fire up the old peace pipe.  The clincher is that the paper the photos were in did not allege that Mike was smoking weed but then Mike issued a statement basically confessing to getting his "puff, puff, pass" on.  Check out the complete article here.
Side Bar-Personally I ain't got no problem with Michael Phelps.  If he wants to hit the pipe errrrry now and then, let him.  It's cool, just as long as I ain't got to start hiding my purse whenever he is around.  Nuff said…
On the real…say no to drugs!  Y'all saw what happened to Whitney Houston and Bobby Brown.  Nuff said…
Okay y'all, there are some pictures on the web (MediaTakeOut) of NFLer Chad Johnson and Weezy "kicking it" and why does it look like they are a "couple?"  Now I have always believed that Weezy is one of those "Any Way the Wind Blows" type of dudes that E. Lynn Harris always has as the main character in one of his books but Chad Johnson??!  Man, I was shocked and appalled at this photo.  Damn, not only do the good sistas have to compete with the skeezers and the bust downs but now we got to compete with other dudes!!
Side Bar-Speaking of funny style dudes, shouts out to CW's The Game.  The writing this season has been OFF THE CHAIN!!  Last week's episode about the closeted gay football player was EXCELLENT!  Kudos to Salim and Mara Akil!  For those of you who have been locked in a closet for the last two years and have NEVER seen The Game check them out on Friday nights.  Check your local listing for times.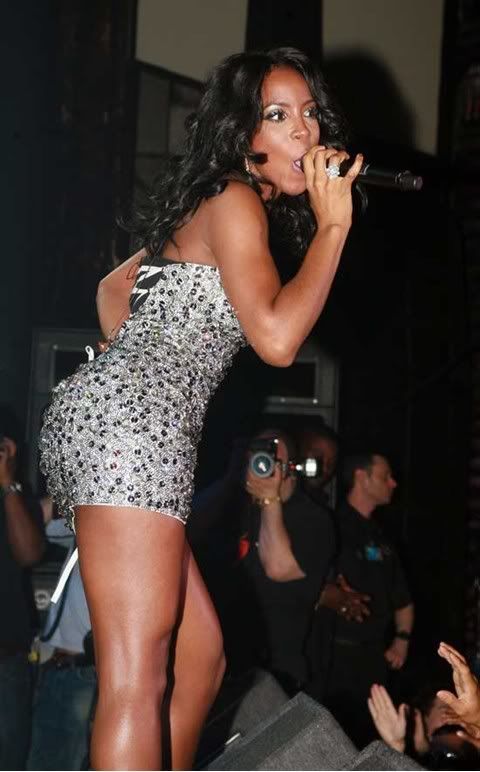 Just when we thought it was OVER…it ain't!  Rumor has it that Kelly Rowland found her backbone in one of her storage boxes as she was packing up her things preparing for her move to Europe.  Lil' sista is coming out with a "diss" track about her differences with Beyonce and Mathew Knowles.  Sista girl is going to release a track that will tell errrrything that transpired and caused the "fallout" between her and Papa Mathew and I cannot wait.
Side Bar-That must be a pretty long song because she got damn near 20 years worth of material to draw from.  Nuff said…
That's all the dirt for now.  Holla back!
Peace,
Sony