What's up y'all?!  Here is the dirt…
Erykah Badu done gave birth AGAIN!  She and boyfriend, rapper Jay Electronica welcomed a baby girl on Super Bowl Sunday.  I know that I am gonna get some hate mail but DANG!  Can we not have a child with ALL of the "old school" rappers?  The first child (Seven) is by Andre 3000, the second (Puma) by the D.O.C. and now this one is by some no named rapper ain't nobody ever heard of.  Not to dis' Jay Electronica but he really is "unknown" if you ain't surfing myspace and what not looking for underground rappers.  I'm just sayin'…
Side Bar-I'm taking wagers on who the next baby daddy is gonna be.  I'm thinking Willie D (The Geto Boys) or the Grand Puba (Brand Nubian).  Y'all know I'm telling the truth.  Nuff said…
Foolishness is among us folks.  Back in July actor Chris Bale stopped production on the set of T4 and threatened to whip up on a cinematographer who he thought screwed up a shot.  Well the audio of that day has been released by TMZ and it is CRAZY to say the least.  Check it out here.
Side Bar-Y'all "crazy" folks know who to pull that foolishness on.  I'll bet Chris wouldn't have rolled up on Suge Knight cuttin' a fool like that.  Hell, he wouldn't have rolled up on NeYo like that.  Let's just say…I think he's a PUNK!  Nuff said…
Okay y'all, I laughed when I saw this.  Frankie and Keyshia are on the cover of the March Vibe.  Now that ain't the HILARIOUS part.  The funny part is that the cover of the magazine says, "The Style Issue."  When I first saw it, I almost choked to death from laughter.  However, when I read further it said, "Frankie gets the mother of all makeovers."  THANK GAWD!  'Cause if I was tired of seeing her rock the flea market Roc-A-Wear lookin' like a 13 year old boy.
Side Bar-I have a reality show idea called "Makeover Mama."  I can name five folks off the rip that need to sign they mamas up.  And the list (in this order) should be…
Janice Combs (Puffy's mama)
Ann Iverson (Allen Iverson's mama)
Frankie Lons (Keyshia Cole's mama)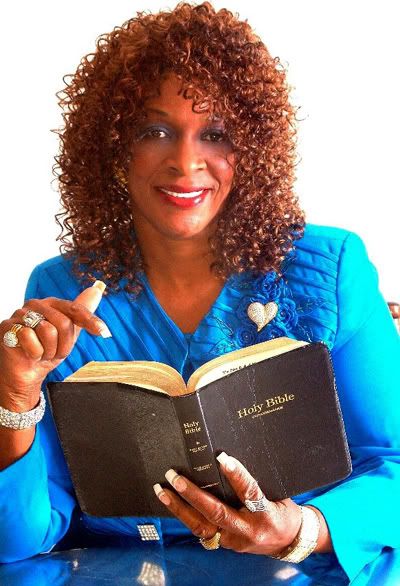 Yvonne Cole (Keyshia's other mama)
Tina Douglas (Ashanti's mama)-Under normal circumstances she ain't that bad but she gets on my last nerve all up in Shani's shyne!  Ugh…
Alright y'all, why is Vivica Foxx promoting the Psychic Friends Network??!  Either she got a "habit" she can't support or her crib is about to go into foreclosure.  Whatever the case she has made it clear that she is at the point of "I will do anything for money."
Check out this foolishness here.
Side Bar-Vivica if you are out there I hear Wal-Mart is looking for greeters.
Okay I know y'all done heard about the Rick Ross/ 50 Cent beef and if you ain't here is the skinny.  Fiddy done made it his business to ruin Rick Ross' street credibility.  According to Mr. Ross himself he used to be a corrections officer, yet he raps about the "dope" game.  Fiddy being the azz he usually is done took it there.  Both men have dis' records, cartoons and videos, but 50 done got real gutter with it.  This dude done tracked down Rick's baby mama and interviewed her.  Mind you, this opportunist trick has a child support case pending against Rick and of course 50 is capitalizing on all of it.  Personally I find them both quite HILARIOUS.  Check out the video here.
Side Bar-Really, who believes half these rappers are really "gangster?"  Most of these fools get their rap names from "real" gangsters.  We all know Rick Ross and the rapper Freeway both stole their names from the LA drug kingpin Freeway Ricky Ross.  If they are sooooo "gangsta" why can't they use their own "street" names??  Nuff said…
That's all the dirt for now.  Holla back at your girl!
Peace,
Sony