What's up y'all?!  Here is the dirt…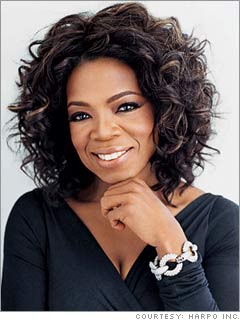 Oprah's ex-man done came out and called Oprah a former crack head.  According to our favorite "truth" magazine, the National Inquirer, Oprah use to smoke crack with Randolph Cook who was her boyfriend at the time and he is writing a "tell all" book about his experiences of being a crack buddy with Oprah.  Now under normal circumstances, I would say we can trust the word of a crack head, but it was in the National Inquirer and you know they tell the truf up in there!
Side Bar-Of all the drugs to use, I doubt if Oprah was a crack head.  Now had he said that they use to get high off of smoking Oregano, Basil or crushed red pepper, I might be inclined to believe it.  But it's Oprah!!  Nuff said…
Ya'll the inaugural weekend is coming up and I have the list of all the happenings.  Check out some of the festivities they have lined up for the weekend…
ALLSTAR CELEBRITY SALUTE TO BARACK OBAMA; TOM JOYNER 
When:  Saturday, January 17, 2009 5:00 pm
Where: Lincoln Theatre, 1215 U Street, NW Washington, DC
Join Radio One as we welcome President-elect Barack Obama to Washington and honor legendary Radio Show Host Tom Joyner. The evening will be filled with celebrity guest sightings as well as soulful musical performances. Featuring performances by Chuck Brown, Raheem DeVaughn, James Ingram, Dick Gregory, Jeff Majors and many more guest surprises. Hosted by Huggy Low Down from the Tom Joyner Morning Show.
Tickets: $110.00 / (202) 397-SEAT (7328) or click here.
Side Bar-Now, a sista may have to check this one out seeing that I have been trying for the last year to finally see "Huggy Low Down."  He…like myself, may need armed security.  Nuff said…
WE ARE ONE: THE OBAMA INAUGURAL CELEBRATION AT THE LINCOLN MEMORIAL
When:  Sunday, January 18, 2009  7:00 pm
Where: Lincoln Memorial, Washington, DC
President-elect Barack Obama's inauguration events kick off on Sunday, January 18th with a celebration at the Lincoln Memorial. Performers include Beyonce, U2, Bruce Springsteen, John Mellencamp, Usher, Shakira, Sheryl Crow, Josh Groban and James Taylor are among the musicians scheduled to perform Sunday afternoon. The president-elect and his family are due to attend, with Obama expected to speak.  Other performers include Stevie Wonder, Renee Fleming, Garth Brooks, Mary J. Blige, Herbie Hancock, Heather Headley, John Legend and Jennifer Nettles. Historical passages will be read by Jamie Foxx, Martin Luther King III, Queen Latifah and Denzel Washington, with other celebrities expected to join them. HBO will televise the show at 7 p.m. EST.
Free! Open to public! / Visit here for more info.
Side Bar-Now y'all know you can't put U2, Mary J and Stevie Wonder in the same sentence with "free".  Nuff said…
HIP-HOP SUMMIT ACTION NETWORK INAUGURAL BALL
When:  Monday, January 19, 2009 8:00 pm – 2:00 am
Where: Harman Center for the Arts, 610 F Street, NW Washington, DC  
Russell Simmons, Valeisha Butterfield, Dr. Benjamin Chavis and the Hip-Hop Summit Action Network (HSAN) sponsors the Hip-Hop Inaugural Ball. A black tie, charity fundraiser with proceeds going to support the non-profit work of the Hip-Hop Summit Action Network's education advocacy and empowerment programs for young adults across America. The Hip-Hop Inaugural will kick off with a star-studded red carpet and celebrity sponsorship reception at 8pm at the Harman Center, followed by an awards presentation to T.I., LL Cool J, Young Jeezy and the Hip-Hop Caucus Respect My Vote Campaign, recognizing the hip-hop contribution to the largest youth voter turnout in American history. A VIP party on all four levels of the venue will follow.
Tickets: $500, $1,000, $2,500 VIP/ Purchase tickets online here.
Side Bar-Russell Simmons is dead azz wrong for charging $2,500 for this event.  He knows we are in a recession.  This is some frackle nackle BULL!
OPRAH WINFREY'S INAUGURATION CELEBRATION
When:  Monday, January 19, 2009 1:00 pm 
Where: Kennedy Center-Opera House, 2700 F Street, NW Washington, DC
Harpo Productions presents a live taping of The Oprah Winfrey Show's Inauguration Celebration.  Sold-out? We hear there may be a few tickets to be found even when they say it's sold out.
For more info visit here.
Side Bar-Like we ain't know that people were going to be lined up around the corner to see a famous, former, crack head.  I wonder if Marion Berry was able to get tickets for this event. 
MY PRESIDENT IS BLACK INAUGURAL PARTY – HOSTED BY SEAN "PUFFY" COMBS  
When:  Monday, January 19, 2009 9:00 pm
Where: FUR Nightclub, 33 Patterson Street, NE Washington, DC
The three kings of night life in the nation Alex Gidewon, Danny Davis, Abe Wosson presents the King of all parties. In honor of our 44th President President-elect Barack Hussein Obama on the eve of his Inauguration. Hosted by the King of Parties, Sean "Puffy" Combs and Young Jeezy.
Tickets: $50.00 / 202-842-3401 or click here.
Side Bar-And Puff is in the club kicking it…yet AGAIN!!
…and for the folks who "ball" on a budget…like myself…
NEIGHBORHOOD INAUGURAL BALL
When:  Monday, January 20, 2009  8:00 pm
Where: Washington Convention Center, 801 Mount Vernon Place, Washington, DC
An official inaugural ball geared toward the residents of Barack Obama's new home town, Washington, D.C. President-elect Barack Obama will be attending this ball. Obama said in a statement that he doesn't want citizens of the District of Columbia or elsewhere to feel left out of the celebration surrounding his elevation to the presidency on Jan. 20.  Obama said he wanted to make sure that "we had an event that would be open to our new neighborhood here in Washington, D.C.
Tickets will be free or at an "affordable price" / Check website
Side Bar-That's why I love Obama.  He got the memo about the recession.  Free is ALWAYS up my alley.
The one person who will be falling under the radar this weekend is Michael Vick.  Big Mike will be released from jail on Tuesday (the day of the inauguration).  He will be headed straight to a halfway house.  To all of the groupies out there, yo' "boo" will be home real soon.
Enjoy the festivities and be safe this weekend!
Holla,
Sony