What's up y'all?!  Here is the dirt…
Last night was the Golden Globes and all of the beautiful people were out in full effect.  The Golden Globes are by far one of my favorite "mainstream" award ceremonies because it is very relaxed and the award recipients will say just about anything.  However, I don't watch the Globes for the speeches.  I watch to see who looks a hot mess but y'all know how I do. 
Let me start things off with Puffy.  Diddy's made for T.V. movie, "A Raisin in the Sun" was nominated for the Best Mini Series or T.V. Movie.  The clip they showed of the film was ALL Puffy.  I guess they needed to prove to us WHY that movie lost to John Adams and boy did they do a good job.  The next was Puffy and his "presenting" skills.  Why was that fool stumbling over the words on the teleprompter?!  He was so horrible that his co-presenter (Kate Beckinsale) began to mouth the words.  It was HYSTERICAL.  Hey Puff, if you are out there please know that your next endorsement deal should be HOOKED ON PHONICS!!  Nuff said…
Side Bar-In case you are wondering, the reason I called "A Raisin in the Sun" Diddy's movie is because he was the executive producer…AKA…the money man.  That's soooooo him having the lead role.  Need I say more…
Our girl Beyonce did not win for "her" original song "Once in a Lifetime" from the hit movie "Cadillac Records" and I cannot say that I was mad about it either.  Y'all know that girl didn't write that song.  Beyonce has been EXPOSED.  I was put on to her NON-WRITING tail when we found out that she didn't write that song "Listen" from "Dreamgirls".  Anyway, I am glad to report that she didn't win.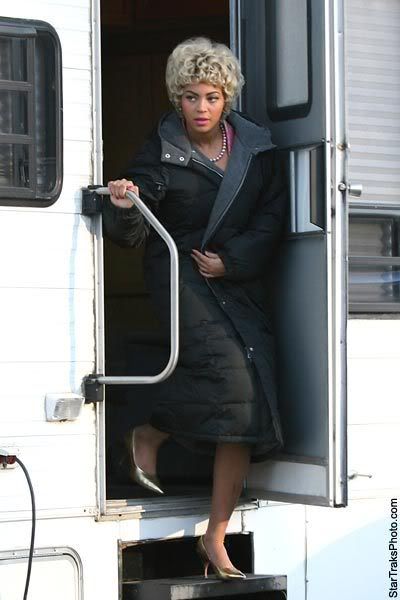 Side Bar-To all of you NON-WRITING "artists" out there, please know that just because you change the vocal arrangement on a song that has already been written, or you PURCHASE a song that has already been written does not make you the WRITER…unless you are P. Diddy or Beyonce.  Nuff said…
Speaking of Beyonce, she looked great.  Jay Z looked especially nice…in the face…for a change.  I almost thought he had some work done and then he smiled and the truth came out…he didn't.  I have to give the award for the best dressed male to Jay Z.  He looked great.  I can say that Beyonce looked great as well.  It was evident that she gave Barbie back her holiday dresses and didn't go shopping in Charo's closet but she does not get the best dressed female award.  The award for best dressed female goes to…
…drum roll please…
Eva Longoria Parker!!  That sista is ALWAYS tight!  I love her style. 
Now on to the DIRT!!  Marc Anthony and J-Lo were there looking like a "happy" couple.  I'm wondering if it was all for show or if it was because P. Diddy was in the house.  Y'all know how men get.  They get REAL territorial if they think that someone else is trying to pee in their sandbox.  Nuff said…
Speaking of J-Lo, her dress was FAB but why could we see her love handles.  J-Lo if you are out there, it ain't been a year yet.  Give yourself a year after childbirth to get back tight before you jump naked.  I'm just sayin'…that was dead azz wrong!!
As much as I love me some Taraji P. Henson, I hate to say that she looked a hot azz mess on the red carpet!  Therefore, I regret to have to give the worse dressed female award to Taraji Henson and Angelina Jolie.
Side Bar-Is it me or does Angelina look like she has body odor?  I know that's mean but she just does not have that "clean, fresh, I took a shower" look.  Y'all know I'm tellin' the truth.
Tracy Morgan gets the worst dressed male award.  He bypassed a razor and went directly to the awards ceremony.  Tracy if you are out there, please no that black men cannot get away with the "rugged" look.  You ain't Brad Pitt!!  On Brad it's sexy.  On you, it's just plain old WRONG!  Please make friends with a razor.  Nuff said…
Speaking of Tracy Morgan, shouts out to him and the entire 30 Rock cast for winning Best Comedy for a T.V. Series.  If y'all ain't checked it out, you better.  Check your local listings for show times. 
After watching the Globes I noticed that there were very FEW black shows represented.  Therefore, I decided to do my own version of the winners.
Best Comedy Series T.V. goes to "The Game"-Mara Brock Akil, Creator
If y'all ain't checked out CW's "The Game", please do so.  Even though Mara was accused of "allegedly" stealing the idea from a struggling writer by the name of Staci Robinson and her book "Interceptions", it is a still a great show.  Check it out.
Best Drama TV Series goes to "Grey's Anatomy"-Shonda Rhimes, Creator, Producer and Director.
Side Bar-Hey Shonda if you're out there, can a sista get a job??  I know how to get coffee real good, I ain't on probation (anymore) and I can keep you abreast of all the latest Hollywood gossip.  Call me…
That's all the dirt for now.  Holla back at your girl!
Peace,
Sony