What's up y'all?!  Here is the dirt…
Okay, I know errrybody done heard about Katt Williams getting knocked the "pluck" out at a club on New Years Eve in Detroit.  If you haven't, here is the skinny.  After his stand up performance Katt decided to go to a Detroit nightclub ALONE without an entourage or security.  While there Katt decides that he is going to BLAST one of the club "goers" about his colorful gator boots.  Although Katt was getting a ton of laughs, "gator boot dude" was not having it and allegedly slapped Katt to sleep.  Anyway, Katt finally spoke out about the incident on a radio show in Detroit.  In the interview, Katt says the dude slapped him but it wasn't anything to talk about because he was still holding his drink and cigarette afterwards.  He also said the reason he didn't defend himself or retaliate was because he didn't want to go to jail or end up having a lawsuit slapped on him.  Check out the interview here.
Side Bar-This is a prime example of what makes Katt SOOOOOO NOT sexy.  Aside from us having to share CHI flat irons, I would not feel safe going to the club with him?!  I'm just sayin', can I not feel like if something pops off that I ain't got to jump in and pull hair?!  Ladies, y'all know what I am talkin' 'bout.  For example, I'll bet Tiny feels REAL safe rolling to the club with T.I.  Nuff said…
Another gold digging Atlanta Housewife is in the news.  It appears that Sheree Whitfield, the ex-wife of NFLer Bob Whitfield is suing him in the GA Supreme Court for alimony.  According to my sources, Sheree (my least favorite housewife) has no education beyond high school and very limited skills to earn an income.  The judge awarded Sheree custody of the couple's children and $2,142.87 a month in child support. The judge also awarded her a division of the marital property totaling more than $1.1 million to include a lump sum payment of $775,000.  She also received half of the marital portion of three NFL retirement plans. However, the court did not award her alimony and she is pissed about it.  Did I mention that they separated after three years of marriage and divorced after seven?  So WHY does this heifer feel that she is entitled to half of everything?!  I ain't sayin' she's a gold digger, but she ain't messing with no broke "broke."
Side Bar-I am all about making a brotha pay for his kids but DANG!  It ain't like he got Michael Jordan money.  Hell, I had never heard of dude until after his azz retired.  Real talk, y'all ain't never heard of no Bob Whitfield prior to that Bravo reality show!  Nuff said…
Okay y'all, this ain't got nothing to do with nothing but check this out.  A while ago, I was listening to Foxx Hole Radio on Sirius Satellite and Superhead…AKA…Karrine Steffans was on there talking about Big Tigga.  She claimed that she believed that he was on the DL based off of an incident that took place at his apartment.  Anyway, Tigga called the show to defend himself and he was snapping.  (Again, proving my theory about providing an "over" explanation for odd behavior).  Anyway, why does Media Takeout have photos of Big Tigga and this real "soft" lookin' "DC Dude" at the Washington Wizards game?!  I don't need to see no mo'.  All of my questions have been answered.  Nuff said…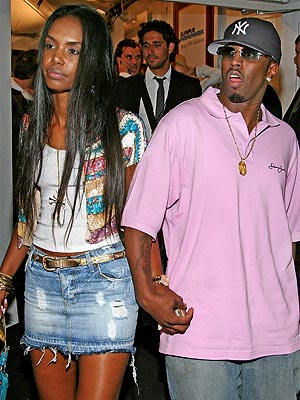 Rumor has it that Kim "Doormat, Baby Mama" Porter and Diddy are back together again.  According to the rumor mill, the two brought in the New Year together in Florida.  Personally, I think Kim is lying to herself about Fluff Daddy.  He ain't really checking for her, but I'm guessing that she ain't got the memo just yet.  Don't be actin' like y'all ain't never looked at Puff the way you just looked at them pictures of Big Tigga and old boy.  Fo' real, you ain't never seen Jay-Z or JD (Kanye maybe) running around with a beautifully coordinated "man servant" or "umbrella" dude.  Y'all know Puff is on some "other" stuff.  I'm just sayin'…
Side Bar-Ladies please know that you are the prize and quit letting these dudes run all up in through.  I don't care how tall he is when he stands on his wallet, or how fine he is in his boxers…you are the prize!!  Hmmm…unless it is Idris Elba.  I may let him get away with a few things.  Y'all know I love me some chocolate men!  Hey Idris, if you're out there…"heyyyyyy boo, call me." 
That's all the dirt for now.  Holla back at your girl!
Peace,
Sony