What's up y'all?!  Here is the dirt…
The ugly rapper has fallen!!  Lil' Wayne took a page out the Beyonce/ Michelle handbook and done slipped and fell on stage while performing.  This was some funny ish to say the least.  Check it out:
Side Bar-It seems to me that Lil' Wayne been sippin' on that sy-zurp.  Wayne if you are out there, just know that cough syrup is not your friend (at least not before a big show).  Nuff said…
WHY is Phylicia Rashad the new spokesperson for Jenny Craig??  When did Phylicia Rashad become "Jenny Craig" big?  It seems to me that she was more like "I need to skip desert once or twice" big.  It has got to be all about that paper.  However, money cannot be that tight.  Now I know I see the Cosby Show on multiple channels daily, so her checks should be PHAT.  Does she have a pie habit we don't know about?  I'm just sayin'…
Okay y'all, what is up with these crazy azz football players?  According to my sources, NFLer Larry Fitzgerald done whipped up on his baby mama (Angela Nazario).  Not only did he knock her around, but apparently he went beeotch on her and pulled her hair. The fight allegedly started after a friendly visit turned violent when she tried to leave with their son.  Now what man do you know pulls hair?  Men that beat women are cowardly and won't run up on a man with that same confidence and force.  Take a note from the "Bad Boy" Dictionary.  NoBitchAssness!!  Nuff said…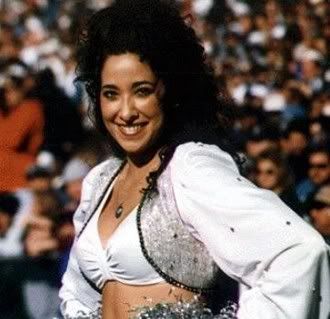 Side Bar-SISTAZ if a man is verbally putting you down and making you feel less than what YOU know YOU are, kick his ass to the curb!!  That is where the bitchassness comes in.  They talk down to you then they push or shove you.  And the next thing you know they are doing the "windmill", rolling their necks and drop kicking you down the street.  And after all of that, you will still have to hide your MAC Viva Glam lip gloss!  Simply put, a man hitting a woman is soooooo BITCH LIKE!  Need I say more??  I thought not…
Y'all I knew there was a reason I loved Young Jeezy.  This young brotha went back to the hood and dropped off several Christmas gifts for underprivileged children in the projects of Atlanta..  I thought that was an AWESOME gesture!!  According to Jeezy, he knew how it was to struggle at Christmas time when he was a child.  Go Jeezy…Put On For Your City!!
Holla back at your girl…
Peace,
Sony