I hope y'all had a Merry Christmas!  Now let's get to the DIRT…
Jamie Foxx has been on a ROLL lately.  If you guys don't have XM or Sirius satellite radio, you had better get with the program.  Jamie has a station on XM/Sirius channel 149 and in the Foxx Hole, ANYTHING goes.  It is no holds barred on errrything and errrrybody including comedian Katt Williams.  Apparently, Katt got beef with Steve Harvey and has challenged him to a comedy battle.  Why does Katt think he is a rapper?!  They ain't Biggie and Pac or Jay Z and Nas!  This ain't Beat Street!!  Now I ain't the one to gossip (yeah right), but Steve is going to rip Katt's one joke having, petite azz, to shreds.  Check out the conversation between Jamie, his comedian crew/sidekicks (including comedian/actor Chris Spencer) and Steve Harvey.  Now I may be a lil' biased towards Steve because it is something about a man that I can climb like a tree, with a big foot, that I ain't got to hide my Remi Yaki and CHI Flat irons from (that purple and gold don't hurt either), but Steve is going to set fire to Katt's perm on New Year's Eve in Detroit.  Listen here!
Side Bar-If Katt's hair is indicative of his personality type, after Steve light's dat azz up on stage, Katt is gonna be backstage going beeeotch … AKA: Kanye West on his manager for letting him go through with this foolishness.  Nuff said…
Speaking of Jamie Foxx … Jamie was on the "Big Boy in the Morning" show going hard on Terrence Howard.  Allegedly, Terrence opened his mouth and had the NERVE to say that Jamie's CD was not "all of that" when his CD went all but "coaster" on my coffee table.  Now I love Terrence as much as the next person … no I don't … I'm lying.  Just check out the video and Jamie will point out what I have felt about Terrence since he was on "Sparks."  Check it out:
Side Bar-This ain't got nothing to do with nothing but has anyone else ever noticed that Terrence Howard's hair ain't NEVA been quite right?  I mean really … an "Eddie?"  I'm just sayin' quit letting Pierre cut yo' hair and go'on and go to Bo-Lo in the hood.  Not errrybody can do EXTRA coarse hair.  I'm just sayin'…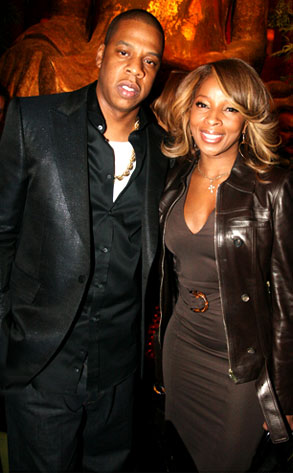 Okay y'all, our girl Mary J along with Beyonce's husband is getting sued!!  Rumor has it that these catz in NYC wrote a song called "On My Grind" and they sent a copy of the song to the offices of Rodney "Dark Child" Jerkins.  Four years later, Jerkins produced "Enough Cryin" for Mary J and Jay Z and it allegedly sounds VERY similar to "On My Grind."   On the real, they need to create some "Rockerfeller" laws for beat jacking.  Nuff said…
Speaking of the Carter's and beat jacking, according to the LA Times, the Queen B may not be nominated for an Oscar for the writing of the song "Once In a Lifetime" from the movie Cadillac Records.  According to the Academy rules, only three people can be nominated and Miss Beyonce will be the fourth writer of the song.  The song was written prior to the movie being made by Scott McFaron, Amanda Ghost and Ian Dench.  Beyonce just rearranged the vocals and added a yodel or two … thus giving herself writer's credit.  Now if that is all it takes, I need to be suing errrbody 'cause I be re-writing errrbody songs whether intentional or not.
Side Bar-Can we just leave Beyonce and her songwriting skills (or lack thereof) alone.  So what she be lying about writing songs and be dressin' all south of the border like.  I love Beyonce!!  Even though she be getting her fashion and hair ideas from Charo, get up off my girl.  She is still beautiful.  Nuff said…
Speaking of lack of song writing skills, Weezy … AKA Lil' Wayne is on tour and headed to a city near you.  He will be here in ATL for New Year's Eve, therefore, I know that errrry store in ATL will be out of Sudafed and cough syrup.  Don't be acting like y'all ain't know that folks be makin' Crystal Meth out of Sudafed and get drunk off of cough syrup.  I ain't sayin' he's a meth-head or a drunk.  I'm just sayin' he might get a sinus infection that might require him to sip on some "sy-zurp."  Nuff said…
This is a "man down" situation.  I don't know if y'all heard or not but TMZ reported that model Gisele Bundchen, her FYNE football playin' boyfriend Tom Brady got engaged Christmas Eve.  However, we don't care about them, 'cause now reports are surfacing that the TMZ story isn't true.  Our girl, model Eva "the diva" Pigford, and actor Lance Gross of "Tyler Perry's House of Payne" got engaged on Christmas day.  The sexy, EXTRA chocolate, patent leather-man dropped to one knee and proposed at his parent's home.  Congrats to the happy couple!!  Now hurry up and get some beans in that oven.
On a sad note … we have lost another one of the greats.  My FAVORITE SEX KITTEN, the great Eartha Kitt has gone on to glory.  On Christmas day, Miss Kitt succumbed to colon cancer at a hospital in Weston, Ct. at the age of 81.  She will be greatly missed.  Thank you Miss Eartha Kitt for being you!
Holla back at your girl…
Peace,
Sony