What's up y'all?!  Here is the run down…
Okay, y'all know I can hardly stand the View these days.  In fact, I really haven't been a fan of the show for a few years now.  From time to time, I may catch the View just to see what the ladies, and my least favorite co-host that Elisabeth chick, are talking about .  She gets on my last nerve.  So much so that if I ain't know Jesus and wasn't afraid of going to jail, I would slap her azz to sleep.  BUT seeing that I am saved and I do not promote violence in any form…I will just slap her with my words.  Anyway, this chick gets on the View and complains that she did not get her annual invitation to the White House Christmas Party and said, "Maybe I didn't do enough for the Republican party this year."  After her complaint on NATIONAL TELEVISION, the President's office apologized for the oversight and extended an invitation to Elisabeth and her husband Tim to spend Christmas at the White House.  Now if you ask me, they intentionally left her dumb azz off the guest list and because she called them out on NATIONAL TELEVISION they had to invite her.
Side Bar-For those of you who don't know this, Elisabeth got her start on the reality show Survivor: The Australian Outback.  That said, join me in starting a petition to make her a contestant on one of the following: Survivor: Englewood (Chicago);  Survivor: Bowen Homes (Atlanta);  Survivor: Marcy Projects (Brooklyn);  Survivor: S.E. (D.C.)…Y'all get the gist.  Nuff said!
Okay y'all Akon pleaded guilty to harassment for tossing a fan off stage during a NY concert last year.  The concert took place in Poughkeepsie at a minor league baseball stadium in June of last year.  Apparently, someone threw something at Akon while he was performing and he asked the crowd to point out the person that threw the object.  The crowd pointed to a 15-year old boy and the security guard picked the child up and sent him up on stage.  Akon then flung the boy into the crowd!  A young lady claimed to have a concussion after the boy landed on her.  Akon, being the gentleman that he is, later shook the boy's hand and apologized to him and his parents.  The judge sentenced him to 65 hours of community service and a $250 fine.  If he completes the community service, he will not have to serve jail time. 
Side Bar-With his sentence, I am re-thinking my whole "slap Elizabeth campaign."  I'm just sayin'…   
Many people are mad that Billboard did not make Lil Wayne's The Carter III, #1 when it was the best selling CD of 2008.  Well, I ain't one of the angry ones.  Y'all know Lil' Wayne cannot rap.  He is the WACK-EST RAPPER this side of the universe.  However, the production and the collaborations were TIGHT!  A Milli was my JOINT…when NEYO re-made it, when Jay-Z was on that joint and when this kid on an underground mix tape freestyled over the beat.  Mr. Carter was HOT…the Jay-Z part anyway.  Other than that…his rap skills are horrible, he's petite, he looks like he has body odor, his dreads look nasty, I think he likes more than just women after I saw him kiss one of the Cash Money dudes in the mouth a few years ago, his voice is raspy like his breath stinks…I could go on but I will stop now.  My point is…he ain't grab the #1 spot and I ain't mad about it.  Nuff said…
Okay, y'all know Kenyon Martin and Trina have been an item for a minute now and to solidify the relationship, Kenyon got Trina's lips tattooed on his neck.  Some would say that Trina must have SKILLZ with the lips if he done tattooed them on his neck…but then again, she may have had a whole lot of practice (at least I would think so by listening to her music).  Now I ain't hatin' on the luv, but I wonder how many body parts those lips have really been on.  And now he has them tattooed on his neck forever…YUK!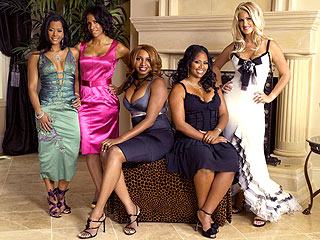 They're back!!  According to EW, "The Real Housewives of Atlanta" have been granted a second season.  The network has not revealed when the second season will air, nor have they revealed any cast changes.  Y'all know that Bravo is known for changing up the casts of their "Real Housewives" series.  Just look at "The Real Housewives of Orange County" and all of the cast changes they have gone through.  Anyway, I am glad to know that they are coming back for a second season.  I need more comic relief.
Side Bar-If Bravo is casting for another season of The Real Housewives of Atlanta they need to give a sista a call.  I am just as fabulous as the ones from last season except for the fact that, I have never filed bankruptcy, I own my home, I have never been evicted, I am not divorced looking for a handout, my husband doesn't owe the IRS, I know both my parents, I am not a no talent having wanna be singer, my spouse is not an athlete, I cook for myself, I am not sleeping with a married millionaire…I guess I don't fit the criteria after all.  Oh well… 
 Why is Dame Dash dissin' Jay-Z AGAIN?!  Okay, this cat is disguising his "hate" under the pseudonym of "keeping it real."  First of all Dame ain't got NO TALENT and he was only popular because he was Jay's sidekick.  You know, he was kind of like Puffy was to Biggie.  The difference is that Puffy is BRILLIANT!  He is smart enough to know his weaknesses.  He is smart enough to surround himself with smart people and that is why he is on top.  Sooooo…Dame if you are out there run up the street to the Bad Boy Headquarters and sign up for "No Beeeeotch Azzness 101."  Check him out…
Holla back at your girl!
Peace,
Sony