What's up y'all?!
Usher and Tameka are at it again…they welcomed their second son Naviyd Ely Raymond on Wednesday, December 10, at 2:33AM weighing 5 lbs. and 13 oz.  Congrats to the Raymond's on the new addition to the family.  And they said it wouldn't last because she is old enough to be his auntie…and looks every bit of the part.  I ain't mad at Tameka.  Go'on girl…secure your top spot. 
Side Bar: Whatever happened to names like John or Michael…hell, Kalil?  I'm just sayin'…Naviyd?  How do you even pronounce that?
Okay y'all, be on the lookout for the January 2009 Vibe Magazine's Tabloid Edition.  In the usual "Vibe" fashion, this edition "shouts out" the best and worst of 2008.  Chris Brown and Rihanna grace the cover of this juicy edition of the hip hop bible.  Now I ain't the one to gossip…who am I kidding…yes I am…but I heard that they have a section in the magazine called "You Got Knocked The…#@&% Out", in which they put Suge Knight, Kimbo Slice, Yung Berg and Mike Jones on blast for "gettin' da business" in 2008.  The highly anticipated magazine hits stands on December 16.  Needless to say…I will be the first in line for my copy.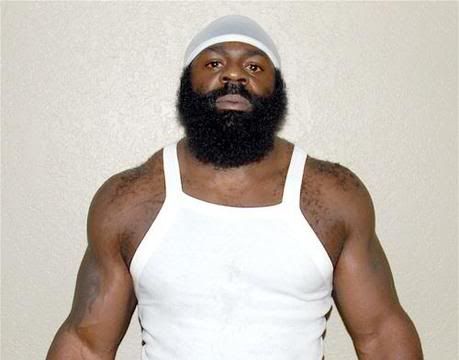 Side Bar-I don't make a habit of calling folks ugly.  I just say that they are beautifully challenged or pretty in other ways.  However…Kimbo Slice has got to be the FUGLIEST joker I have seen in a long time.  I mean, he has nappy shoulder hair.  Who has nappy shoulder hair??!  I'll bet he has THA BOMB personality though.  I'll bet he is generous, kind, sweet and all that.  If he ain't…he needs to be.  Nuff said…
Since we are on the "gossip" tip…we may as well dish ALL of the dirt.  Chile, NeNe from The Real Atlanta Housewives fame is perpetrating a serious fraud.  I had to take it back to the 80's with that one.  In the intro for the show, NeNe's tag line is "I don't keep up with the Joneses, I am the Joneses" and that couldn't be further from the truth.  It seems as if NeNe was trying to keep up with DeShawn, Sheree and Lisa.  Why is this heifer and her husband…BROKE?!!  Okay…let me back track.  NeNe did say in one of the episodes that her cast mates have far more money than she does…but that was an understatement.    If we go by the Fox News reports…I will just say that NeNe should have been on Oprah sitting right next to Suze Orman instead of being on The Real Housewives of Atlanta.  According to reports, they did not own the home featured on the show.  They rented it and back on October 13, a judge ordered their eviction for non-payment of rent.  NeNe was known for "keeping it real," but that is not what the sista has been doing.  Let's start from the beginning.  In NeNe's bio on Bravo's website they say that her husband is a successful real estate investor…NOT!  The truth is that he really owns a property management company call Advantage Move (the phone number to the "business" is disconnected), but according to the complaints of Pat Nelson from KY, she used "Advantage Move" to rent and manage her GA home and got more than she bargained for.  Greg rented the home to his pastor friend who damaged the house and could not afford the rent.  Not only that, Ms. Nelson was instructed to make her monthly payments directly to NeNe and not Advantage Move.   Mind you…he doesn't even have a business license for Advantage Move!!  Hmmm…from the outside looking in, it sounds like Greg and NeNe have some shady business practices but that ain't all of the shadiness going on.  Greg has over 100K in tax liens and it doesn't seem as if their problems are going to get better anytime soon.  On the show NeNe started the "Twisted Hearts Foundation" and raised over 20K for the foundation.  Hmmm…if you are like me…I want to know what she did with the money.  Check this out!
Side Bar-All I got to say is that God don't like ugly and right now they are looking ugly as sin.  There are two folks I don't mess with and that is GOD and the IRS…in that order.  NeNe and Greg have done both and I don't wanna be standing next to them when the lightning strikes.  Nuff said…
Holla back at your girl…
Peace,
Sony